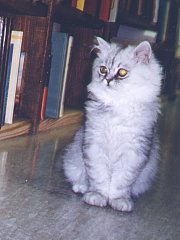 Max
Lafayette, Louisiana
Max lives with Emily and Rocky at Alexander Books in Lafayette, Louisiana. "He is a shaded silver Persian, born in May of 1999. He's really friendly and likes to be cuddled and petted when he's not sleeping or chasing Trixie. Max like to lie in weird postions in the middle of the floor. He looks like a furry rug and lets people walk over him without moving. They are both in the bookstore all day and we take them home at night." Story and pictures sent in by Barbara Alexander of Lafayette, Louisiana.
Note: Trixie was a previous shopcat. Read about her here.
---
copyright ©1998-2003. All text and photographs are copyrighted by Trina and Greg Samson unless otherwise indicated. If you are interested in using something from my site, please write to ask permission first.

webmaster@shopcat.com. This shopcat added 04Jun00