Shopcat.com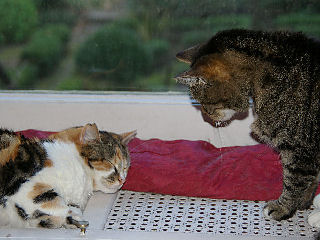 Nose Count: 470
Welcome to shopcat.com, the first site dedicated to working cats everywhere. On the following pages you will find stories and pictures of all kinds of cats who work in stores, libraries, hotels, and so on. If you would like to have your shopcat featured on this page, or if you know of a shopcat who is not listed on this page follow these instructions to let me know. Bookmark this page; I will be adding kitties often.
Want to be on the mailing list? Go to my What's New page to sign up.
Looking for something specific? Search this site!
---
Other areas of interest:

---
You can help shopcat.com! Stop here first on your way to Amazon.com or Cattoys.com. Click the button below for the site you want to go to. Anything you buy from either site will send a small percentage back to shopcat.com. All proceeds go directly back into the site. :)
---
Visit our group on Facebook!


---
copyright ©1998-present. All text and photographs are copyrighted by Trina and Greg Samson unless otherwise indicated. If you are interested in using something from my site, please write to ask permission first.
Page maintained by webmaster at shopcat.com. Last modified 15Nov09.
Page visits since 28Feb98: at least