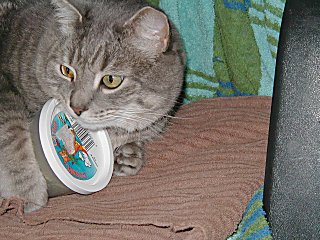 Oscar Vachon
South Tamworth, New Hampshire
"Oscar came to the Merrimac office after retiring from college life at the young age of 3. He'd had enough of the wild days and wanted something less stressful. The college roommate's Rotweiler puppy liked to carry him around by his head… it was quite rough on the male ego. Now Oscar spends his days lounging in our office chairs, on desks or in the sun on the lunch table. He's always quick to report if something needs adjusting. In fact he's quite proud of his job here. (If you're having a long day and wish to take a nap Oscar is happy to oblige, he makes a great warm furry vibrating pillow.) Since most of us have no time for naps he's happy with a spot on Noelle's desk and once in a while will help her dial the phone or type on the computer. Some days he pesters Amy; if he really wants to bug her he'll lie across her papers and try to look cute about it. Most important is lunch inspection. If lunch isn't up to par, he'll just turn up his nose and walk off mumbling. He's well known for table drive-bys, in which case the staff goes hungry. He's being trained to sit in the chair and wait, but old habits die hard. After 7 years of service at Merrimac he's demanded that we compensate him with catnip… and we oblige frequently. We hope to have him here for many years to come." Story and pictures sent in by Noelle Emerson of South Tamworth, New Hampshire.
---
copyright ©1998-2003. All text and photographs are copyrighted by Trina and Greg Samson unless otherwise indicated. If you are interested in using something from my site, please write to ask permission first.

webmaster@shopcat.com. This shopcat added 1Jun02